"She puts on chain mail and lets students fire real arrows at her!"
These are the first words I ever heard to describe the educational revolutionary that is Adrienne Alexander. I was instantly hooked and needed to find out more.
As part of our TEDxBrisbane curation program, we constantly monitor various channels and sources for intel regarding ideas and individuals that should be on our watch list for future events. One of these sources of intel is our own TEDxBrisbane Team members. And one of these team members, Ailsa Wood, brought Adrienne to our attention during a team meeting.
I looked across at Rob, our Head of Production at TEDxBrisbane, a company director at Full & Frank, and my husband. Rob and I studied history together at university many years ago as undergraduates. But while my focus was on politics, social change and feminist revolutionaries, Rob's passion lay in military strategy, life and armaments. So, when I looked at him, he knew I was seeking his input as to whether this radical teacher who dressed up in chain mail to teach history might make for a great potential speaker.
"You had me at chain mail," was his reply.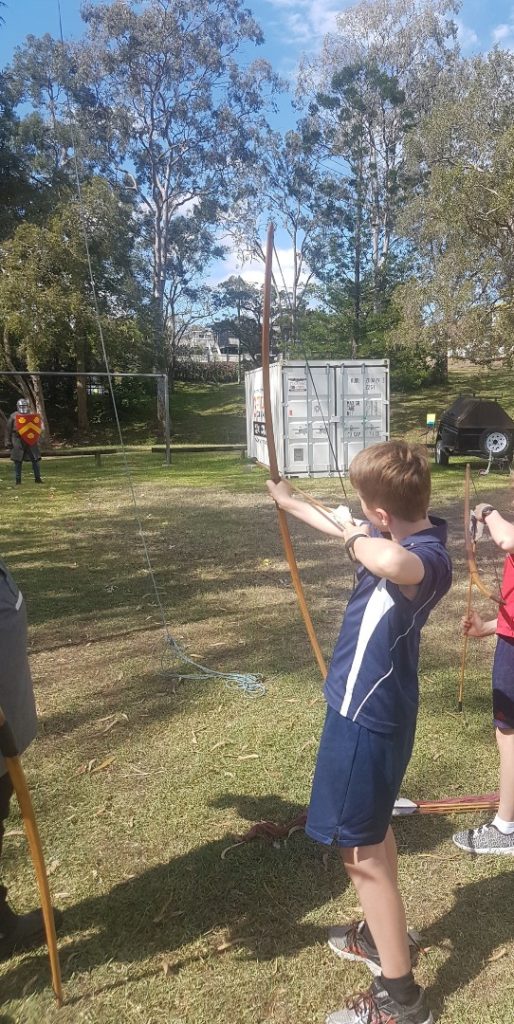 Once I had stopped laughing, Ailsa told us more about Adrienne and her work. We went home, spent time doing our vetting, and it didn't take long for us to realise that Adrienne was an expert in her field and had a fabulous and vital idea worth spreading.
We did our shortlisting interview, and our instincts and sleuthing were confirmed. Adrienne is a highly experienced educator, and her idea is a globally relevant and urgent clarion call to inspire, empower and educate the next generation by revolutionalising how teachers teach.
Working with Adrienne to prepare for the TEDx Talk was a curator, speechwriter and speaker coach's delight. Every time she spoke to me about her idea, I was re-inspired – even after I had heard it 100+ times. Her enthusiasm for helping children to learn and to love learning itself is infectious. Her respect for the honourable profession of teaching is stately. Her belief that the change she is championing can be made and will succeed, bolstered by her years of experience, is compelling and persuasive.
There were human moments of doubt and difficulty as Adrienne prepared to deliver her TEDx Talk. There always are. Adrienne, like myself, wrestles with perfectionism. It's something we share. Adrienne wanted to ensure that her talk did her idea justice. She wanted to honour teachers doing great work. She wanted to acknowledge the challenges faced by teachers today. And she wanted to call for administrators, policymakers and parents alike to trust experienced teachers to know their craft and make sound educational decisions for the children they teach.
Adrienne was aiming for 100% perfection. Something I tell all my TEDx speakers and speaker clients – is setting themselves up to fail before they ever take the stage. I coach them to change the goal. Aim for 80% perfection and 20% authentic human moments (the things my former perfectionist self would have called mistakes). All too often, the 20% human moments – the slight stumble on words, the catch in the throat, the need to pause to wipe a tear – are where the magic happens.
When rehearsals didn't go precisely as planned during the speaker prep journey, Adrienne would be overly scathing of her stumbles. So, I would ask her, 'What would you say to one of your students if they made a mistake?'
She didn't need to tell me. She would look at me, understanding washing over her face (often begrudgingly) and then try to extend the same kindness, care and support to herself that she provides to all her students – as well as her fellow TEDx Speakers she shared the journey with as part of a speaker cohort.
With her permission, I can also share that Adrienne was juggling inner battles with speaking, presenting and being the centre of attention on such a significant stage. Like far too many of the female speakers I work with, this commonly stems from the harsh or unkind treatment they have previously experienced, be it as a child or as a woman. People's words can leave scars, regardless of whether they are visible. For these women, the speaker journey can be incredibly challenging, profound, and sometimes triggering but ultimately transformative. At least, that's always the goal.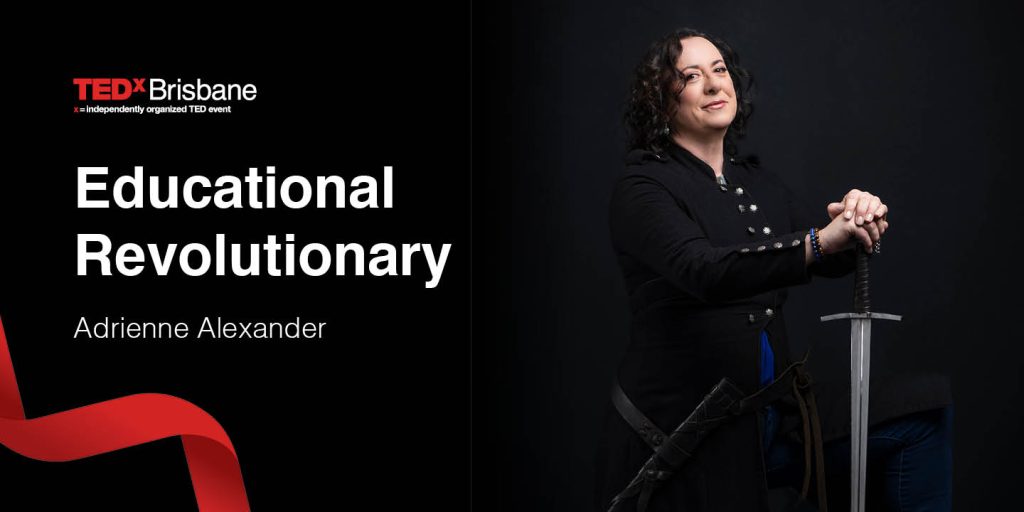 I could not have been more proud when Adrienne took the stage, walking past me as I headed for the wings. This woman is intelligent, wise, nurturing, insightful, powerful, driven, courageous and determined. Her idea is all those things as well.
I laughed a little to myself as she walked out wearing 'regular' clothes.
There had been a moment when we contemplated having Adrienne deliver her talk from the red circle in chain mail. Adrienne has her own historically accurate, custom-made, authentic suit. (Who doesn't?!)
Two things stopped us. The first was that even though the arrow-shooting chain mail story hooked us – Adrienne's idea worth spreading is far greater than that one anecdote. It is revolutionary.
The second reason was far more pragmatic. Rob, who is an in-demand quality assurance and risk specialist for his day job, felt placing a human in authentic, heavy chain mail under searing stage lights for sixteen minutes could kill her. So we decided on street clothes. The rest is history (sorry, I couldn't help it).
If you are a teacher or educator, if you are an educational administrator or policy maker, if you are studying education, if you have children, grandchildren, nieces, nephews, or any young people you respect and care for – do yourself and them a favour and watch this powerful, informative and compelling talk.