I never in a million years thought I would invite a comedian to deliver an entirely improvised TEDx Talk as part of our 2022 speaker lineup. But I did.
The TEDx Talks we normally curate with our TEDxBrisbane speakers are strategically planned, lovingly drafted, meticulously fact-checked, scrutinised, edited, memorised and rehearsed before they make it to our stage. I know every word that will be said on stage before it happens. It's how we set up our speakers to succeed and ensure the high calibre of the talks on our stage.
It's also smack bang in the middle of my comfort zone as a recovering perfectionist and control freak.
This radical divergence from the norm began when Rob and I attended TEDSummit in Edinburgh in 2019. For those new to 'Team Wheeler', Rob is the Head of Production for TEDxBrisbane, a fellow company director for Full & Frank, and my husband. We've been together for 30 years this year.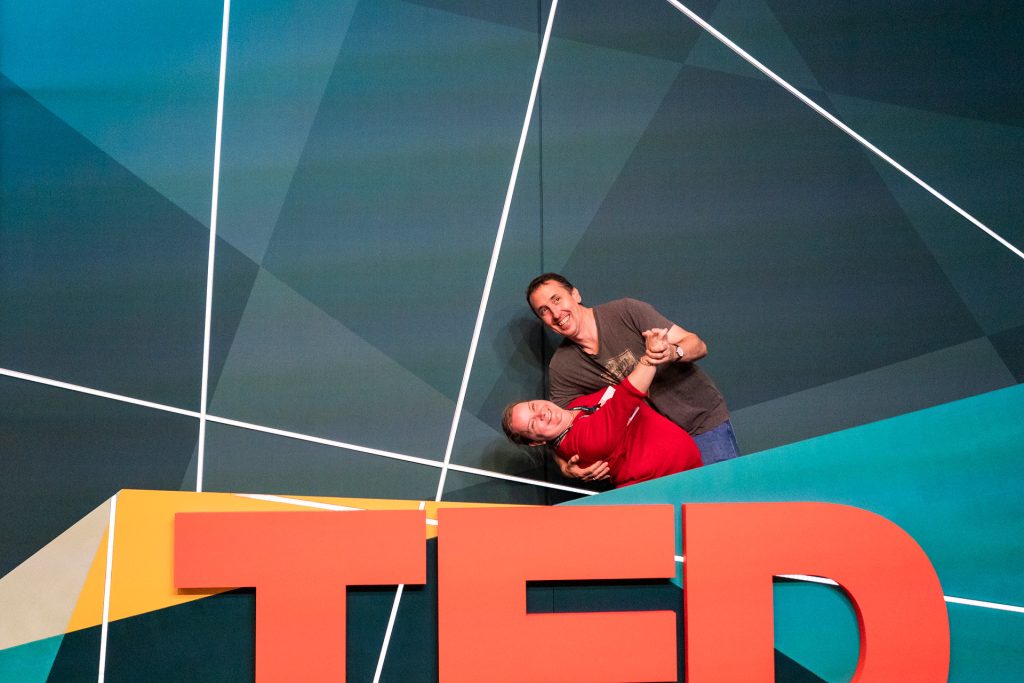 But I digress.
Rob and I were attending TEDSummit 2019 in Edinburgh. TEDSummit occurs every few years (or it was pre-COVID), and it is a magical event. It gathers the most engaged members of the global TED community, including hundreds of TEDx organisers from around the world, for community brainstorms, discussions, performances, workshops, outdoor activities and an eclectic program of mainstage talks.
It was during Session 2 of the mainstage TED Talks that the Host, Chee Pearlman (Arts & Design Curator of TED Conferences), introduced the next speaker by saying:
"Now we are going to do something that will give all of you TEDx organisers a real nightmare. Anthony (Veneziale) is going to give a TED talk – a real TED talk, a serious TED talk, without rehearsing, without preparing, without actually even stressing out about it at all. He is also going to have a slide deck that he's never seen before – just to raise the bar a little bit."
She was right. There were audible gasps and nervous laughs from numerous TEDx Organisers in our vicinity. Several of the gasps belonged to me. I remember looking at Rob nervously. Chee then proceeded to crowd-source the topic and title from the audience for the impromptu Talk Anthony would commence just moments later—the Power of the Potato.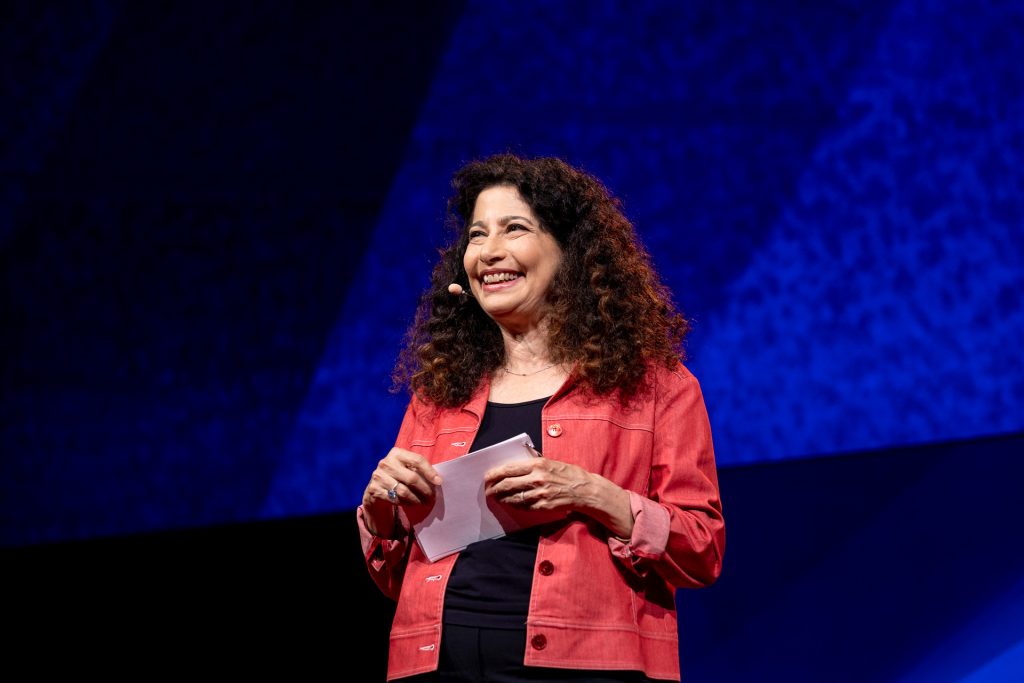 As Anthony began his TED Talk, every muscle in my body was taut. I could feel my blood pumping past my temples. It was as though someone had just sprung a life-or-death pop quiz on me – regardless of the fact I was merely sitting in the audience.
However, my 'sympathy panic' quickly subsided into joy, awe and laughter. Anthony was outstanding. He had barely finished delivering his final line, as the applause rang throughout the theatre when I turned to Rob and said – we have to do that. Caught up in the moment, I forgot about my perfectionism and control freak tendencies.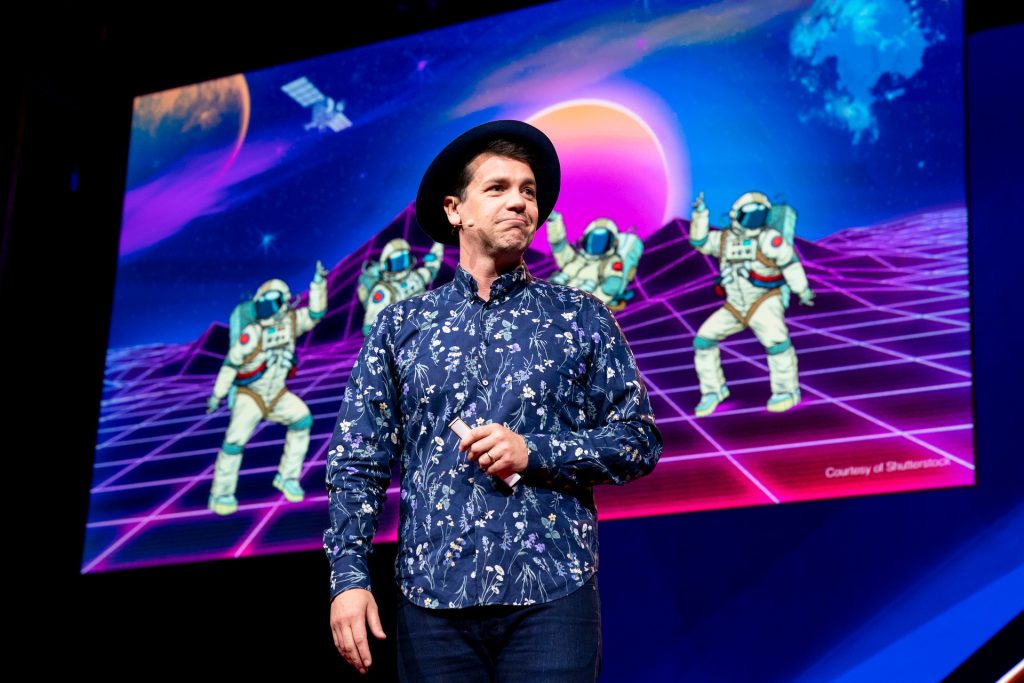 We sought out Anthony during a break. One of the best parts of attending TED and TEDx events is meeting and talking to the speakers in person. We asked for his blessing to replicate at TEDxBrisbane what he'd done on the TED stage. He was delighted by our request and actively helped us connect with the people in Brisbane best placed to help us.
Then COVID hit. Our plans were delayed. But as soon as planning for the live, in-person TEDxBrisbane 2022 event commenced – the crazy improvised talk idea resurfaced. We rekindled the connections and auditioned three highly regarded local talents, tasking them to perform the same improvisation that would be required on event day, unseen slide deck and all. They were all great, but Jenny Wynter blew us away. We confirmed her as a speaker almost immediately.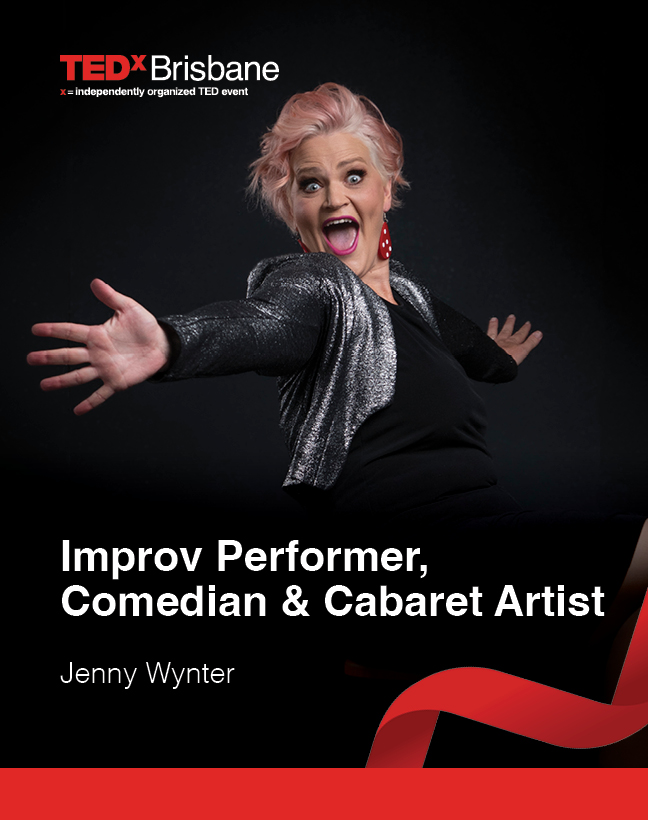 As the rest of our speaker lineup reviewed and edited drafts, confirmed and reconfirmed facts, and memorised locked scripts, Jenny had nothing to write, fact check or commit to memory. When the time came for our 'green light meeting', the meeting several weeks out from event day when speakers have to recite their scripts to their fellow presenters to demonstrate they have the words memorised (and can now turn their attention to stagecraft), we wanted to ensure Jenny felt part of the cohort, and that the speakers regarded her as one of their bonded group.
We asked Jenny to deliver an improv talk for the rehearsal. It was the first time many of the speakers truly understood what Jenny was tasked with achieving. Rob had created the random, unseen slide deck for Jenny to click through. We crowd-sourced the topic and title from the other speakers, and I practised having to come up with an introduction incorporating relevant mock credentials instantly. Then Jenny's green light rehearsal talk began.
It was hilarious. So much so that one of our speakers, Danish, almost wore a mouthful of hot coffee from the speaker sitting immediately next to him – she held back her laugh and an open-mouth disaster just in time. There could be no doubt – Jenny was a fully-fledged member of the cohort.
And as great as her rehearsal performance was – it only got better from there. On event day, Jenny was magnificent. The other speakers were in awe of what she was set to do. I overheard a discussion between speakers in the Green Room first thing in the morning. One speaker said – 'When I start to get nervous, I just think about what Jenny has to do." The other speakers agreed.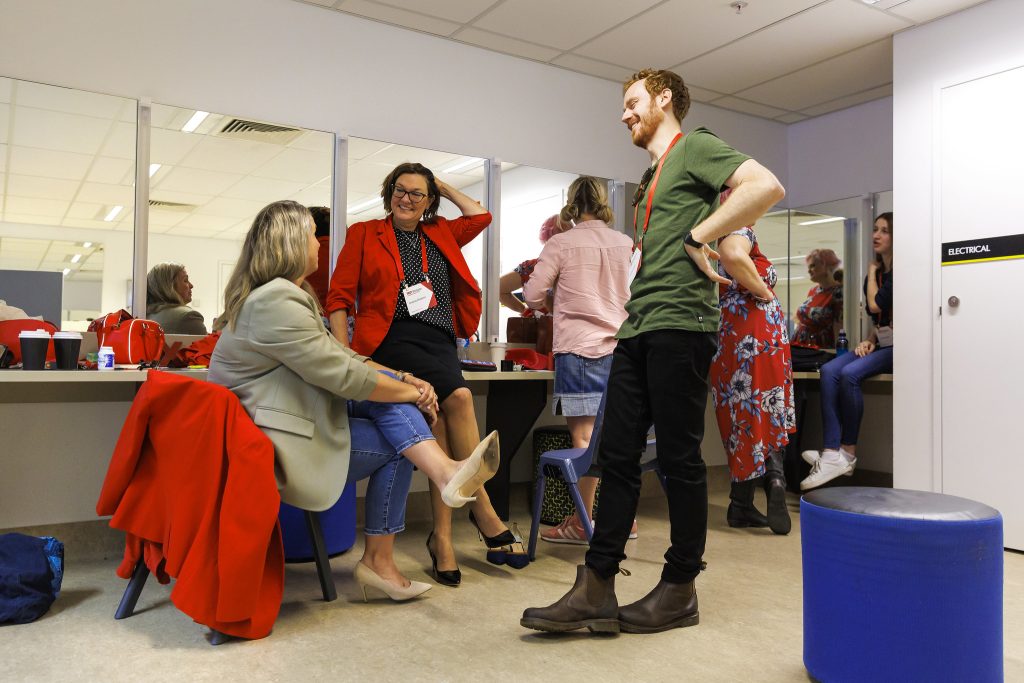 As for me and my perfectionist, control freak tendencies – they resurfaced spectacularly on event day as Jenny's session drew ever nearer. So many things could go wrong. The success of this bold, off-script adventure rested entirely on the skills and talents of Jenny. Fortunately, I remembered that Jenny is a formidable, award-winning comedian and cabaret artist. I remembered her audition and her mock rehearsal for the green light meeting. I knew she would be amazing. And she was.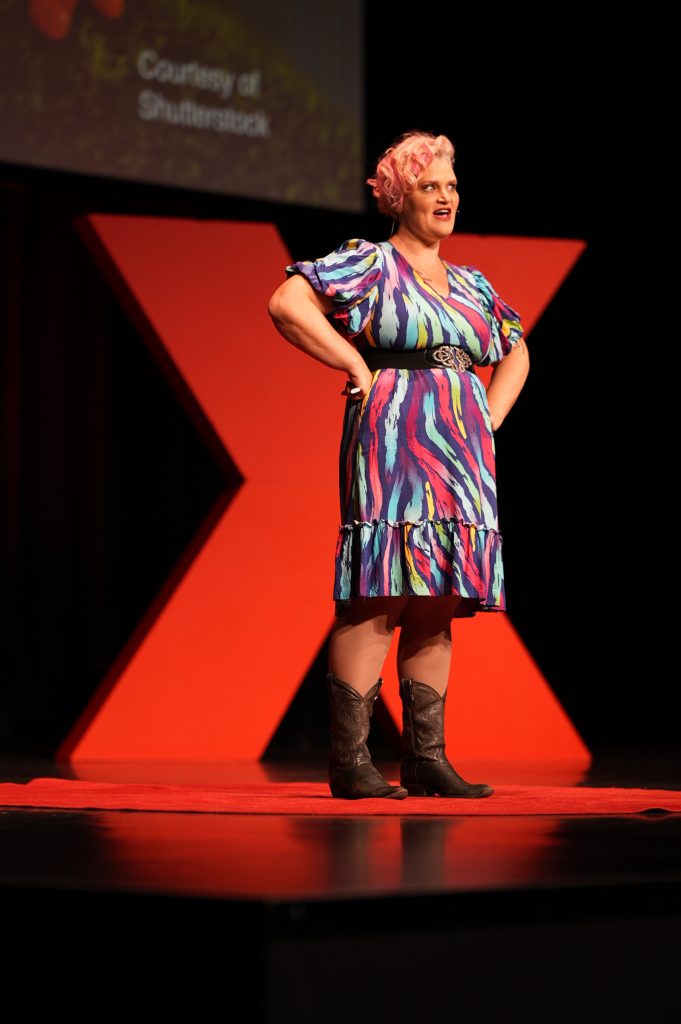 There is something magical about attending TEDxBrisbane events and experiencing these kinds of moments live. It's hard to describe to someone until they've been at one of our events and experienced it first-hand, but hopefully, I have given you a strong hint.
If you don't yet know about the wondrous talent that is Jenny Wynter – do yourself a favour and catch a show. And if you find yourself with an opportunity to do something different and step outside your comfort zone – do it. Often that is where the magic is.
You can watch Jenny's improvised TEDx Talk here.
P.S. A special shout-out needs to go to Flight Centre Australia. They were our Official TEDxBrisbane Travel Partner for our 2018 event, and in addition to providing the flights for our domestic out-of-city speakers to fly to Brisbane, they also provided two return tickets for Rob and I to attend TEDSummit in Edinburgh. They recognised the immense value that ongoing training and participation at international TED events brings back to our local event and community. An improvised TEDx Talk is just one of the dozens of ideas we experienced, discovered and learned at TEDSummit 2019, brought home and have implemented across our events to make them better. (We're always looking for great partners!)